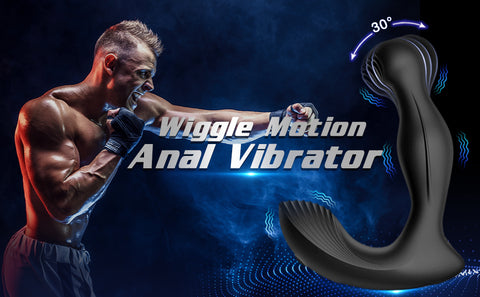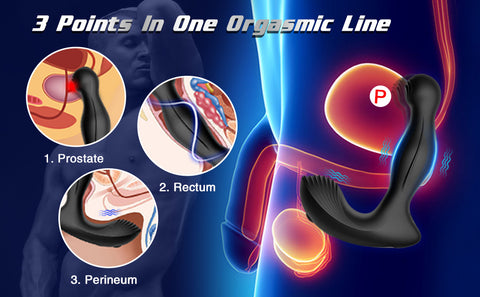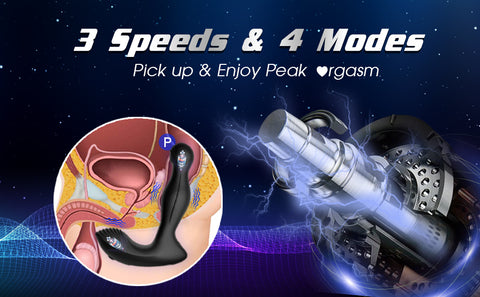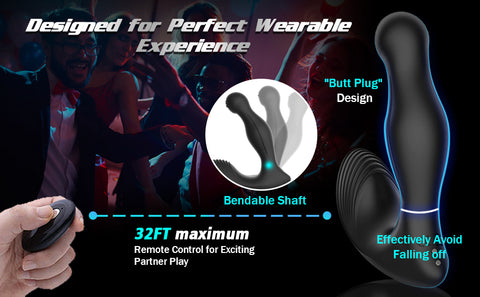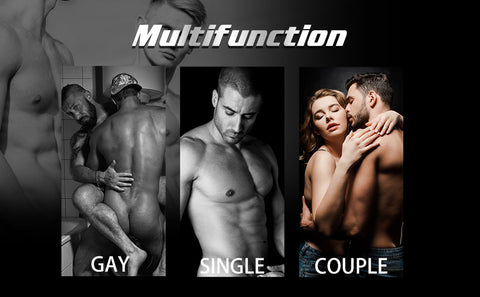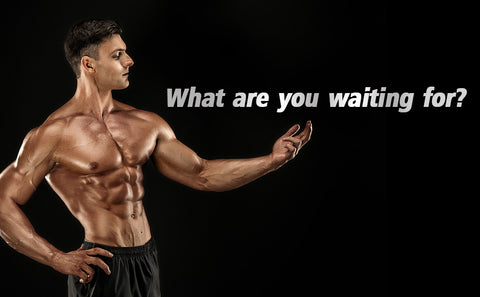 ❤【The Angle of the Tip Combined Artfully with Matching Finger-like Wiggle Motion, Faster & More Fitting】
This prostate stimulator moves forth and back to give your prostate stimulation as though your partner's finger massage. After many tests and based on ergonomics, the optimum angle with 30° wiggle motion is chosen to precisely stimulate your best spot with high frequency, bring you the breaking point, maximize the results, and let your body shake and your climax overwhelm you finally.
❤【Prostate & Rectum & Perineum Internal and External Pleasure】
To upgrade your anal-sex experience, the 3 in 1 anal plug with dual-motors can accurately target your prostate, rectum & perineum and offer internal and external pleasure simultaneously. 8 line of raised ribbed on the vibrator bottom creating high frequency and depth vibration to your perineum or clit. Let it against your perineum, target your "P" spot and the whole rectum and take you to internal and external triple enjoyment.
❤【"Plug" Design & Bendable Shaft for Best Wear Experience】
We design the vibrator into an ergonomic plug so that it will not fall off and will lock firmly in your hole no matter you are playing or doing anything. Instead of stiffly connecting with your body as you thrust, the super-flexible shaft bends with your body as the internal shaft applies pinpointed pressure to your G-spot or prostate, enabling you to fully experience the sex fun from the wonderful experience of wearing to hand-free orgasms.
❤【7 Powerful Finger-Wiggling & Vibrating Modes Help You Reach Peak Orgasm】
Available in 7 different finger-wiggling modes and 7 vibrations. The MAX wiggle speed up to 150 taps/min in just the right way can leave your "P-spot" breathless with pleasure! You can use it alone or with the remote control (remote control distance 32ft maximum). Just explore and discover the ultimate rhythm and the mind-blowing sweet spots for you and your partner now.
❤【100% Waterproof & Discreet Package】
Rechargeable with magnetic USB charging cable. Compared with usual DC port charging, the magnetic charging is easier to use and better to waterproof. Full silicone cover and magnetic charging design ensure 100% waterproof. For your privacy, this anal vibrator will come in a discreet box. If you are not satisfied with our product, please feel free to CONTACT US, we promise to offer you the perfect after-sales service.
Recommended for the Finger Wiggling Prostate Vibrator
Product title
$19.99 | $24.99
Product title
$19.99 | $24.99
Product title
$19.99 | $24.99
Product title
$19.99 | $24.99