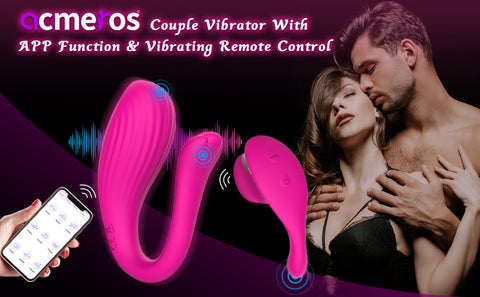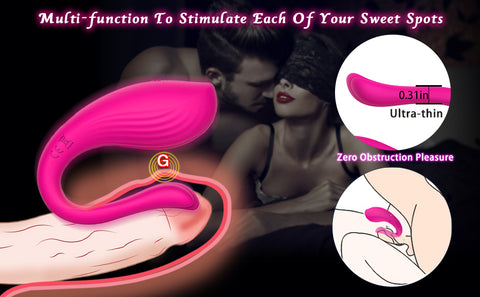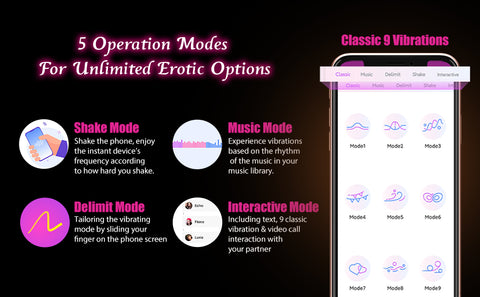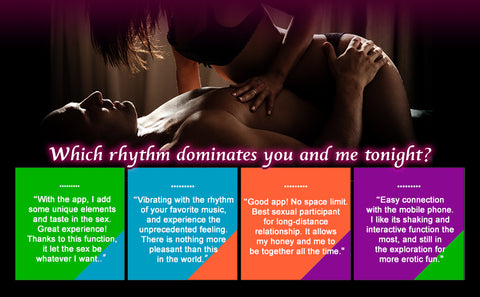 Ultra-thin C-shaped Design And 2 Motors For Shared Stimulation & Zero Obstruction Pleasure
Long-tail thinner than 0.3 inches for comfortable and stable wear. Perfect fit offers sufficient space between the shaft and vaginal wall and ensures smooth thrust without any abnormal feeling during sex. 2 powerful motors produce dual vibration and let you both enjoy the shared sexual stimulus and synchronized orgasm.
Confidential & Comfortable Wear Without Space Limit
With its powerful vibration, the big end can be inserted into the vagina to stimulate the G-spot, and the small end can stimulate the C-spot or anus simultaneously. 9 vibration intensities can be chosen by your partner or yourself. Both indoor and outdoor play is optional. The vibration can also be controlled via remote control or Phone App. Ideal for long-distance relationships.
Vibrating Remote Control For Foreplay & Flirting
Its maximum remote control distance is 43 ft. The petite remote control can also be used as a vibrating finger with its 9 vibration intensities. The curved shape makes it easy to hold. Just keep it between your two fingers and wander on your partner's body for more provocative foreplay. You can stroke over any external sweet spot such as clitoris, nipples or perineum for unprecedented climactic possibilities.
Connect To App For Endless Erotic Combinations
The App-controlled vibrator with 5 operation modes can be connected to the phone App for unlimited pleasure options, such as synchronized stimulation with the rhythm of your favorite music, tailored vibration possibilities based on how to shake your phone or how to slide on your phone, as well as video interactive stimulation with your partner. More enjoyable combinations are waiting for you to explore.
Soft, Waterproof & Rechargeable
Made of high-grade silicone, this soft couple vibrator is bendable to adapt perfectly to any body shape and achieve dual stimulation during sex. It is quiet but powerful and can be used on all occasions without being heard by any others. The magnetic charging strengthens its waterproof performance. Most importantly, the package is delivered to you in a neutral box to protect all your private information.
Recommended for the App-controlled Wearable Vibrator
Product title
$19.99 | $24.99
Product title
$19.99 | $24.99
Product title
$19.99 | $24.99
Product title
$19.99 | $24.99