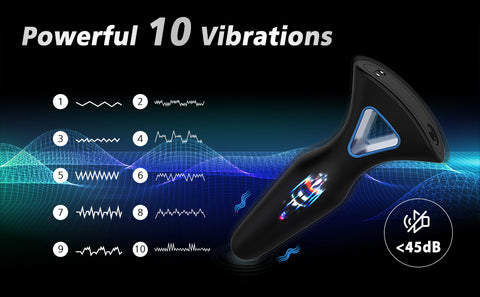 ♥ Golden Triangle Neck Design For Easier In-out
This anal toy's biggest difference from other butt plugs is its innovative neck shape and curved base. It boasts the safe use, and the unique appearance makes it stay exactly where you want and allows for easy removal. The triangle shape from 1.0 to 2.4 inches can be used to train the contraction of the anus, starting from the small head, slowly experiencing the thicker and thicker size, and experiencing different feelings of anal contraction.
♥ Mid-sized, Pleasure For All
1.3*5.4 inch, the slender anal butt plug can be worn by beginners and experts alike during solo play, foreplay or sex. The powerful vibrating anal plug is designed to take your sex life to a new dimension and can transform the ordinary solo, oral or penetrative sex into extraordinary. A perfect shape for new or experienced users!
♥ 10 Powerful Vibrations to Suit Your Needs
With 10 vibration modes for a range of sensations, our anal toys can please all. Through the discreet button set on the butt plug's base to cycle through the patterns, it can be used to stimulate the prostate for men and create incredibly pleasurable pressure on the back vaginal wall for women. Moreover, the anal plugs can also be used for pinpoint stimulation of other erogenous zones during solo play or as part of foreplay.
♥ Medical-grade Material for Long Comfortable Wear
With the velvet-soft silicone casing, the butt plug is comfortable to wear and its tapered tip is great for super sensual insertion. Be sure to use plenty of anal lubricant for the best sensations.
♥ Whisper-quiet & 100% Waterproof
The anal plug is whisper-quiet for confidential use even in shared houses. 100% waterproofing ensures the fun in the bath or shower. Easy to clean. And the USB recharging allows for playing anywhere in the world. We respect your privacy. All items will be packed and delivered to you in neutral boxes.
Recommended for the Powerful Vibrating Anal Plug
Product title
$19.99 | $24.99
Product title
$19.99 | $24.99
Product title
$19.99 | $24.99
Product title
$19.99 | $24.99