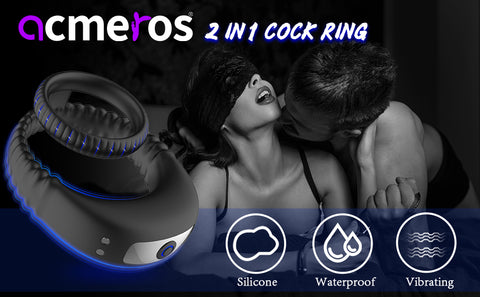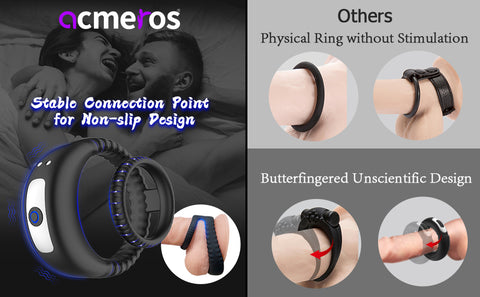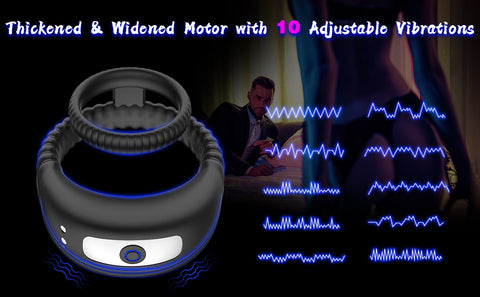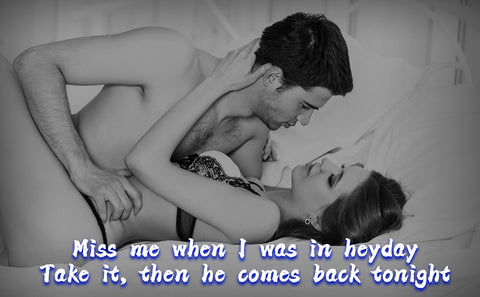 ❤【2 in 1 Cock Rings around Shaft and Perineum Firmly to Achieve Stable Precise Pleasure】-Combining the advantages of physical and vibrating penis ring, one ring fits around your shaft for stronger erection, while the other offers the precise vibration for balls constriction and boosted perineum. Scientific design of uneven size with this vibrating ring can perfectly loop you with layered pressure in all the right places to zero obstruction pleasure.
❤【Versatile Penis Ring Vibrator to Get knees Trembling and Orgasms for Two & A Must-have Couple's Toy】-Aiming for stronger erections and delivering longer lovemaking sessions, the vibration of love ring passes your ball and reaches to your partner's clit as a couple vibrator. It also means your girl can incorporate with her mouth and tongue for better oral sex.
❤【Thickened & Widened for Larger Stimulating Area and More Comfortable Balance】-Compared with other uniform rings in size, the vibrating love penis rings is thicker and wider in the middle, which can envelop your testicles and perineum with larger stimulating area. In the bondage world, that tight is right. Moreover, the precise designed size makes this penis rings achieve the perfect balance between restricting and comfortable.
❤【Longer, Harder, Stronger & Adjustable 10 Vibrations】-Featuring a ridged texture around this vibrating larger love cock ring, it offers adjustable 10 vibrations and helps increase stamina to train your sensitivity. It restricts the blood flow of your penis gently to increase length and girth, help reduce and control premature ejaculation in order to prolong the sexual life time.
❤【Soft Stretchy High-Quality Materials Fit in Any Size & Durable】-Adopted the medical smooth silicone, this penis rings can fit in any men's size. USB rechargeable for using anywhere around the world, the vibrating cock ring is also completely waterproof for underwater adventures. Happy 2 in 1 penis rings love water-based lube.
Recommended for the Vibrating 2 in 1 Cock Ring
Product title
$19.99 | $24.99
Product title
$19.99 | $24.99
Product title
$19.99 | $24.99
Product title
$19.99 | $24.99